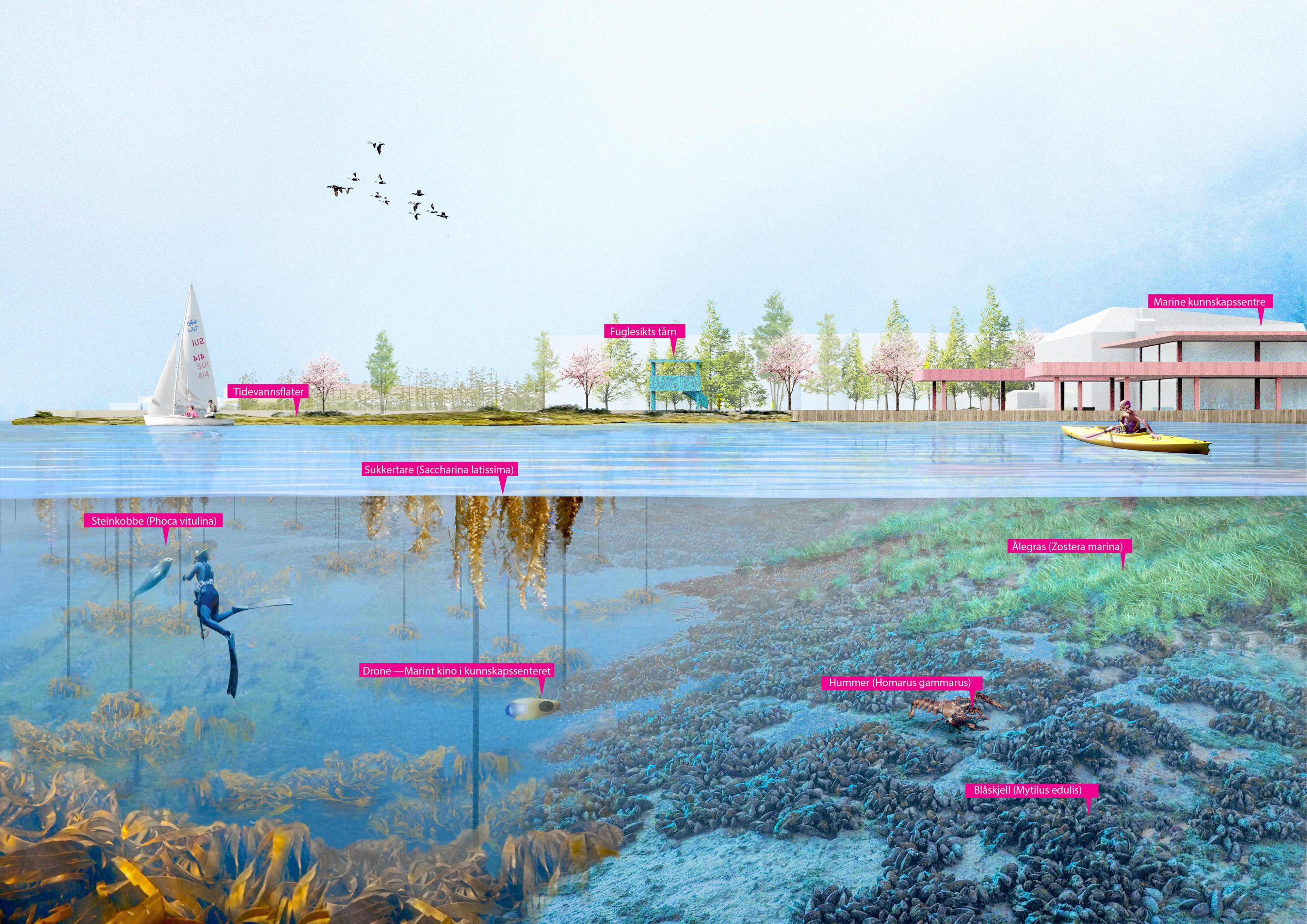 Ulsteinvik: Multigenerational city
Our focus within the study was on the city's waterfront and park system. We took this opportunity to learn more about how we can better design coastal landscapes, integrate play as a pedagogy, and design for health with regards to humans and ecosystems.
We start every project with a question, how can we make more meaningful and liveable environments for all livingkind. From here we began to dissect the territory of Ulsteinvik; Who lives here, how was it settled, what type of soils, vegetation, agriculture, industries, and cultural activities take place here? Ulsteinvik is in-fact an incredibly well placed village. It is within walkable proximities to the fjore, fjell and the wild. It has a network of green fingers extending through the city that can be utilised as a framework for its future structure, offering many recreational opportunities and closeness to biodiversity.​​​​​​​
Through this study we looked at how the natural landscape can be a guiding point for the future development of the city. When looking at historical images and maps it becomes evident that Ulsteinvik is truly a city within the fjell and fjære. Historically the water was much closer to the city centre, and due to climate change the appearance of water will be increasingly evident.
Within the strategic masterplan we emphasize extending and utilising the green fingers as a tool for the city and as a resource for maintaining a healthy blue waterfront. This will create an extensive network from the fjore to the fjell and an important connection for the city. The idea of health and healing landscapes is explored along the sauneselva where we suggest the idea of "the saunes health network" - a park system that interweaves health facilities and the cities adjacent landscape. This idea of health also extends itself to a greener city center, that is made for people and hosting life in the city. At the same time we believe that the transformation of the waterfront is a necessary measure for increasing good city life and building maritime culture. This involves a softening of the waters edge to rebuild maritime landscapes and habitats, and has been done in close dialogue with marine specialists  - here we really wanted to understand how we can work with the cities landscape both above and below the water along the urban coast line. On a more principle level, climate adaptation and the notion of play can be found throughout the landscape plan; which we believe will create a city that expects the unexpected, is curious, and fun to live in for all ages.